Full e-copies of

CHARTIST

are available here. If subscribers would like to gain access to an electronic copy not listed here then please email us at

webeditor@chartist.org.uk



(Click on the images below to open the PDF file)
CHARTIST

287 – July/August 2017
In 287 Chartist Examines the 2017 General Election Result and looks at what the future might hold.
CHARTIST 286 – March/April 2017
In 286 Chartist Examines Labour's electoral chances and Jeremy Corbyn's growing popularity.
CHARTIST

285 – March/April 2017
In 285 Chartist examines the growing NHS Crisis and internal Labour Party politics.
CHARTIST

284 – January/February 2017
In 284 Chartist talks Trump, May and the rise of Populism.
CHARTIST

283 – November/December 2016
In 283 Chartist whacks Brexit, May and anti-migrant politics.
CHARTIST

282 – September/October 2016
In Chartist 282 Labour's uncivil war is addressed in a number of articles in time for Labour conference. Brexit also features prominently as does articles by Prem Sikka, Frank Lee and our usual regulars.
CHARTIST

281 – July/August 2016
In Chartist 281 we sift through the ruins of Brexit and a swathe of other issues including tax by Prem Sikka, Housing by Robin Hambleton and Frank Lee of political propaganda.
CHARTIST

280 -May/June 2016
CHARTIST

279 -March/April 2016
This month we Chartist has articles on the Bernie-fication of American politics, Brexit, the junior doctors strike plus two MP's pen some good un's for us.
CHARTIST

278 – January/February 2016
Articles on Syria by Nia Griffiths MP, Westminster by Clive lewis MP, local government by Alice Perry, Tax and Austerity by Prem Sikka, extremism by Tehmina Kazi plus all our usual regulars.
CHARTIST

277 – November /December 2015
Articles on migration by Don Flynn, Greece by Marina Prentoulis, the EU by Jude Kirton-Darling MEP, Wendy Pettifer on legal aid and our usual fill of Reviews, Points and Crossings and Greenwatch.
CHARTIST

276 – September/October 2015
CHARTIST

275 – July/August 2015
Articles from Cat Smith, John Palmer, Rachel Robinson and Peter Hain.
CHARTIST

274 – May/June 2015
Articles from Ann Pettifor, Prem Sikka, Peter Kenyon, Marina Prentoulis and Frances O'Grady of the TUC.
CHARTIST

273 – March/April 2015
Articles from Peter Kenyon, Cat Smith, Patricia d'Ardenne, Marina Prentoulis and Don Flynn.
CHARTIST

272 – January/February 2015
Articles from Ann Pettifor, Claude Moraes MEP, Patricia d'Ardenne, Prem Sikka and Sue Goss.
CHARTIST

271 – November/ December 2014
The new issue of Chartist has been released with articles on Palestine by Richard Burden MP, The middle east by Tehmina Kazi and Sheila Osmanovic and Peter Kenyon on one of Labour's Eds weighing Labour down

CHARTIST

270 – September/ October 2014
Prem Sikka on unitary taxation, Gerry Hassan, Maria Fyfe on Scotland, Peter Kenyon on Labour, Paul Nowak on workers' need for a pay rise, and Lucy Anderson MEP on our European home.

CHARTIST

269 – July/August 2014

Frank Lee and Sheila Osmanovic on Ukraine, Don Flynn on immigration, Dot Lewis on South Africa, Patrick Gray on the Co-op Bank and Co-ops and David Lister on Birmingham school.
CHARTIST

268 – May/June 2014

John Palmer on the EU

,

Paul Teasdale on Scottish independence,

Prem Sikka on Banking and banksters

,

Frank Lee on Ukraine

and

Lib Peck on Co-operative councils.
CHARTIST

267 – March/April 2014

Katy Clark MP on Labour, Dot Lewis, Steve Freeman, Don Flynn on immigration, Julia Wickham on Syria.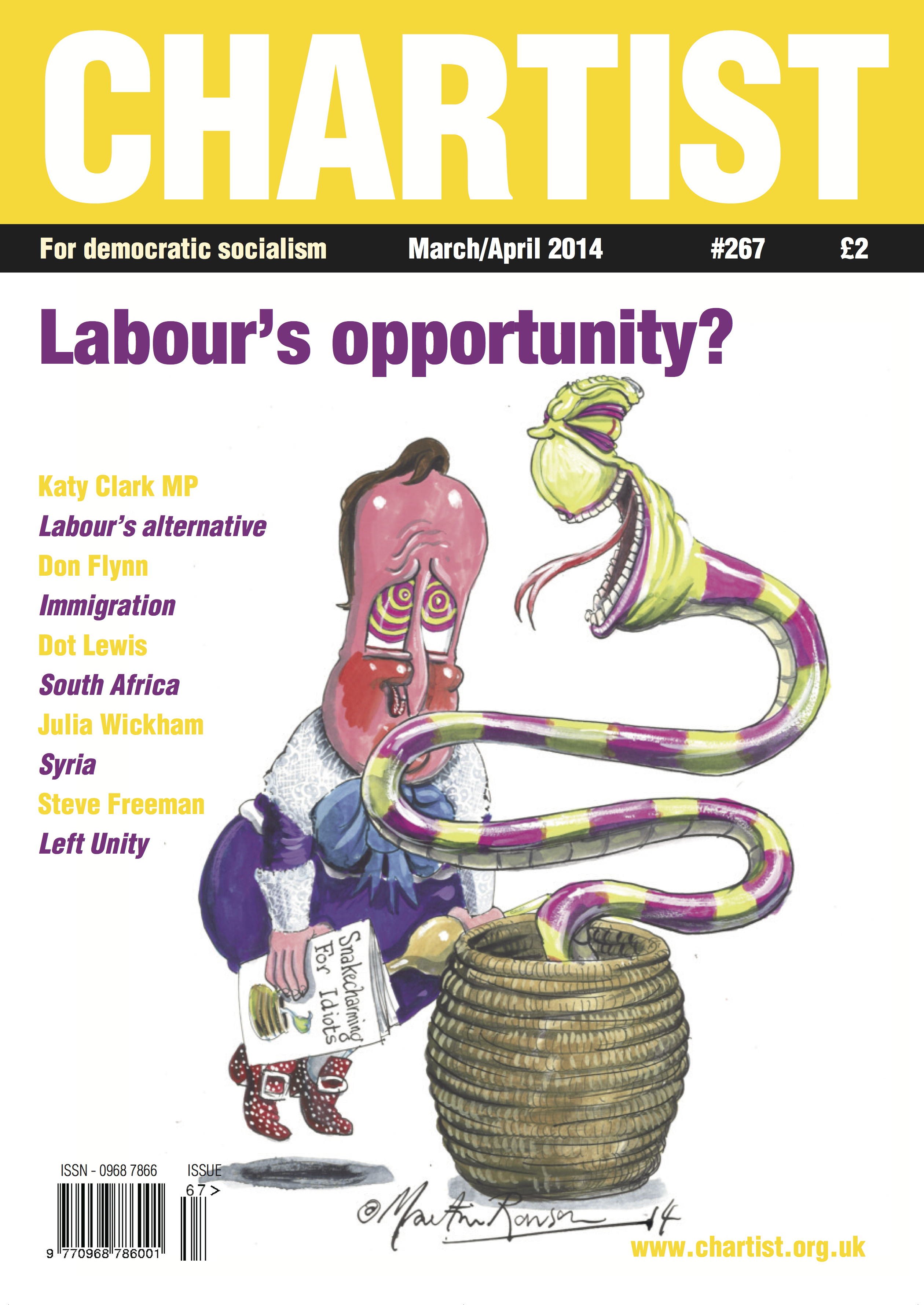 CHARTIST
266 – January/February 2014
Éric Toussaint, Janet Williamson of the TUC, Michael Meacher MP and much more.

CHARTIST
265 – November/December 2013
Cat Smith, Keith Ewing, Christine Blower, Sasha Simic and Gaye Johnston.

CHARTIST
264 – September/October 2013
Andy Morton, Greg Barnes, Philip Whyman and Mark Baimbridge and Franziska Brantner MEP.